Step 1:

Download and configure your SMS system according to the information provided in the quick start guide! (read the article on the right)

Step 2:

Purchase a GSM modem from Ozeki: You can purchase a suitable GSM modem directly from Ozeki. You just need to fill the order form.

Step 3:

After you have downloaded and configured the SMS Gateway, you can setup automated SMS notifications by applying one of the following configurations:

SMS through HTTP requests
SMS from E-mail
SMS from the command line
SMS using txt files


If you are a software developer you can proceed to adding SMS functionality to your source code by clicking on one of the following links:

PHP SMS example
C# SMS example
ASP SMS example
SQL SMS example
Delphi SMS example

If you would like to send and receive SMS messages from MS Office applications, please check out the following links:

Send SMS from MS Excel
Send SMS from MS Outlook
Check out Ozeki SMS Client









Callcenter developers
If you are working on telephone solutions, please check out the Ozeki VoIP SIP SDK.
It can be used to create:


Webphone solutions:
- Adobe Flash video phone
- Silverlight video phone
- Web to web calls
- Web to VoIP calls

Custom SIP clients:
- Silverlight SIP VoIP client
- Flash SIP VoIP client
- C# .net SIP VoIP client
- ASP .net SIP VoIP client
- Web based SIP VoIP client

Custom VoIP solutions:
- VoIP SIP softphones
- VoIP call center clients
- VoIP IVR systems
- VoIP predictive dialer systems
- VoIP auto dialer systems
- VoIP call assistant
- VoIP call recording systems
- VoIP intercom solutions


Sending SMS messages
To compose and send an SMS message, click the Compose button in the toolbar, which is in the header of the Management Console.
After clicking it, the Compose a text message panel will show up. Here, select the message type and the service provider connection in the respective dropdown menus.
Then, enter the recipient phone number in international format (starting with +) in the To (phone number) edit box.
Compose the message in the Message text edit box.
Click OK when you are finished (Figure 1).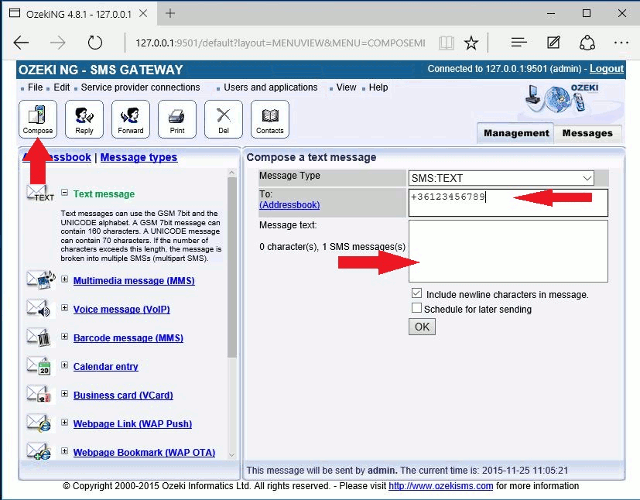 Figure 1 - How to send the first SMS message
Dig deeper!
People who read this also read...




Next page: User Interface